What is lubricant - A beginners guide to lube
LUBRICANT – WHAT YOU NEED TO KNOW
Let us start by busting a major myth right open, lubricant isn't just for post-menopausal women who no longer produce natural lubricant or to prevent tearing whilst indulging in extracurricular sexual activities, such as anal. It's actually one of the safest, user-friendly, effective and cheapest sexual enhancement tools around that can be introduced into the bedroom to mix up playtime in more ways than one!
What Is Lube?
Not to be confused with the lubricant Steve pulls off a dusty shelf each time you take your Honda Jazz for a service (which you probably should do more often!), we're passionate about those adding pleasure, ease and excitement into the bedroom. Instinctively, heightened sexual excitement increases your natural wetness in anticipation of some form of sexual activity. Although, our bodies being the complex things they are might not always work with us resulting from; stress, anxiety, hormonal levels or even effects from some medication. This is where Lubricant (often shortened to Lube) can help you to slide along with your sex life by simply increasing lubrication, as well as bringing new textures, flavours, sensations and safer sex to the bedroom. Yes, you read that correctly, lube also has safety benefits as it greatly reduces the risk or tearing and other injury associated with anal and intense penetrative sex.
Types of Lube
Ultimately, all Lubes serve the same purpose, to increase wetness and glide making your sexual experience smoother and more pleasurable. With so many brands and styles of the sticky stuff out there all boasting their own unique enhancements, it's important you choose the option that suits your sexual needs. Here's a few;
Water Based – Our recommendation for beginners and perfect for; solo play (masturbation), penetrative sex (vaginal and anal) and sex toy play. Ideal for those with sensitive skin or those with allergies to silicone or various oils. Water-based lubes are easy to clean off so there's no risk of stains, the only downsides are they tend to become sticky and require re-application so aren't ideal if you're planning a marathon and wash away during shower play.
Silicone Based – Slippery and long lasting, making them perfect for anyone looking to go the distance or play around in an aquatic environment. Being more durable silicone-based lubes require less frequent reapplication, but on the flipside require a little more effort, soap and water to wash off afterwards. Heads up, this specific type of Lube can breakdown silicone products over time, so it's not suitable for use with silicone crafted sex toys. 
Oil Based – Offering a long lasting silky smooth experience as well as boasting health benefits for the skin these lubes can be used in more ways than one. Oil based lubes are recommended for skin on skin scenarios, such as unprotected (safe) sex, hand masturbation and sensual massage, as well as offering another option for water play. This Lube should not be used with Latex based condoms or products as it will cause them to dissolve and break.
Natural – These types of lubes have becoming increasingly popular over the past few years and available in many ways shapes and forms. The use of organic ingredients is both safer for your body and the environment. We recommend trying either; Aloe Cadabra, Sliquid Organics, Good Clean Love Almost Naked or Blossom Organics.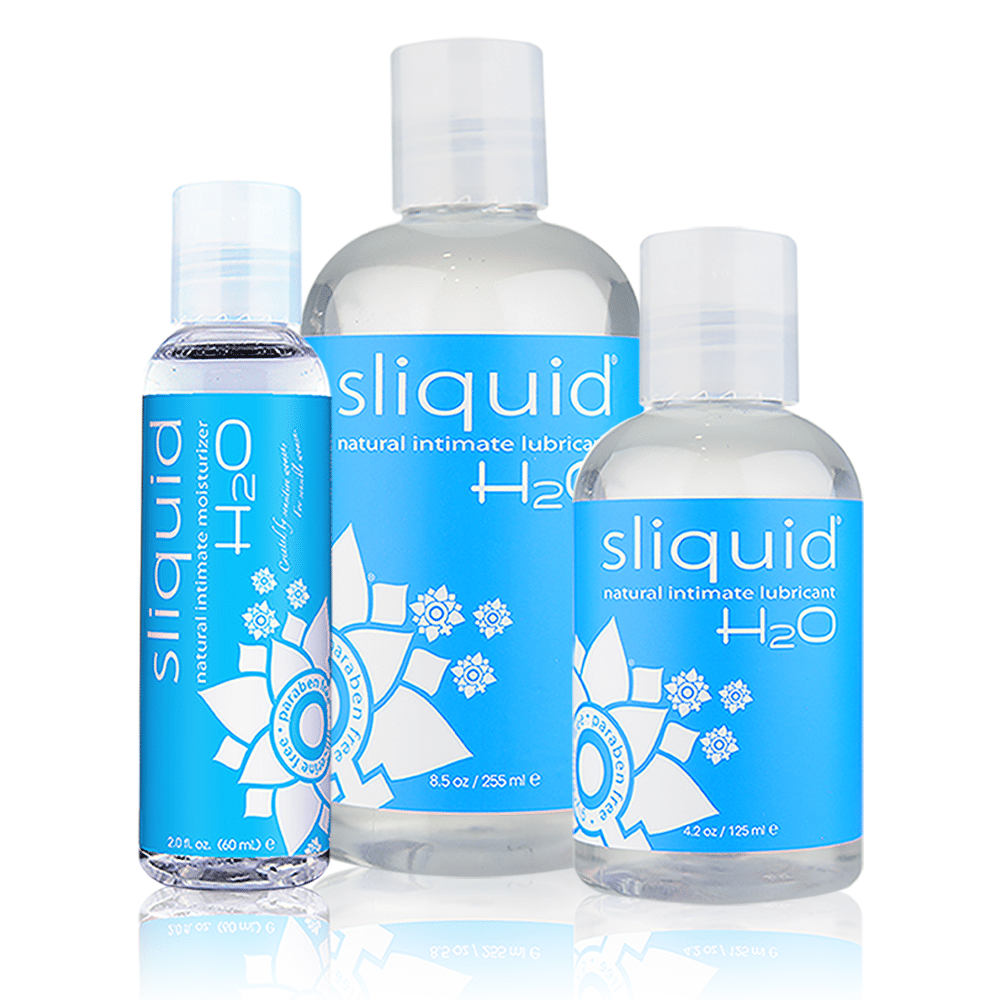 How To Use Lube
There are two main rules when using lube. Firstly, "A little goes a long way" and secondly, "You can never use too much". Basically, depending on your personal needs and desire there is going to be some trial and error involved in finding out how much, when and where Lube can be used to enhance your sexual experience. If it's your first time, start by placing three small drops (yes, only three) onto whatever your using, such as your; hand, penis, vagina, dildo or male masturbator making sure to spread it evenly over the surface. Once you begin to play, experiment with adding more lube internally or externally until you are slipping around as easily as you desire. Remember, some Lube require more frequent reapplication than others, for some inspiration make sure you read this article on 25 Sexy Ways to Use Lube.
Things To Look Out For
When selecting any type of lube, make sure you read the ingredients! It's important to avoid anything that has artificial colours or flavours as they may cause irritation and inflammation to your skin. Have a read of 6 Lube Ingredients You Might Not Want to Put in Your Vagina for a more detailed explanation of harmful ingredients and their side effects.