8 Mind-blowing Cunnilingus Positions
8 Mind-blowing Cunnilingus Positions
How to Improve Your Pussy Eating Game
Your Questions … 
What are some good oral sex positions?
How can I get variety into our oral sex routine?
Should I go down on her like I've seen in porn?
Answered.
For those who have already mastered the basics in Oral Sex Safety and Level Up Your Cunnilingus, keep reading! If you haven't already savoured those tasty bites of critical information, we highly suggest you start there.
Receiving oral sex can be incredibly pleasurable for a vulva owner, however, although it may be hard to believe, it gets better! 
***Inclusion Note*** We are going to be referring to vulva-owners as she/her/woman throughout this article and the oral providers as he/his/man. We promise we're only doing this to keep the article brief, we don't mean to make anyone feel unrepresented! These positions are for all pussy-worshippers alike, regardless of your sexual orientation or gender identity.
Ready to improve your jewel-munching game? 
 The Hummingbird
This one is a classic for a reason! It allows the oral receiver to lay back and enjoy every stroke of the provider's tongue while promoting free access to the body.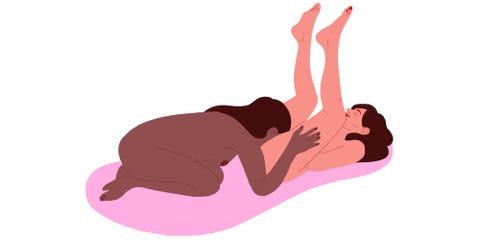 @LUCYMACARONI
Vulva owner: Lay down on your back on a bed or other comfortable surface with your legs spread and raised slightly. When your partner joins you, you can either keep your legs up and to the sides, bent up and raised above their shoulders or relaxed on either side of their head. 
Oral provider: Lay face down with your head between the receiver's legs. You can use your hands to explore their body while you're going to town, hold their legs up, or even use your fingers to titillate the insides of the vaginal canal.
 The Empress' Favourite Chair
Another classic that is often depicted in porn for a reason! It is a simple, low impact and hot way to get that pussy licked.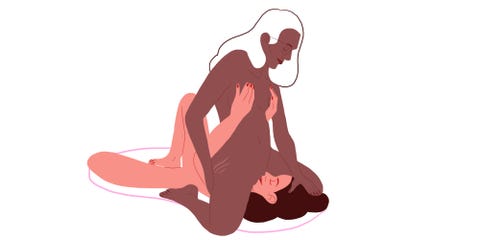 @LUCYMACARONI
Oral provider: Lay face up somewhere comfortable with your arms at your sides. When the vulva-owner straddles your face, you'll have a ton of options to keep your hands busy!
Vulva owner: You have two options here, both resting on your knees. You can sit on his face facing the same direction, or turn around and arch your back, putting your vulva directly on his face. Better yet, try both!
 Whispering Delight
This one can be done on a variety of surfaces, whatever is comfiest for you both!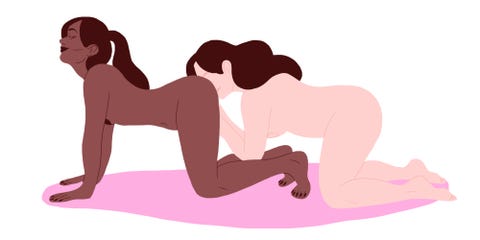 @LUCYMACARONI
Vulva owner: Get on your elbows and knees on a surface like a chair or even the edge of the bed and face that beautiful vulva towards the provider
Oral provider: Kneel behind the vulva owner and get your face between her beautiful cheeks! This is another wonderful option for analingus as well, so get creative and enjoy the view!
 The Mechanic
This one provides the best view to the vulva owner while keeping the provider comfortable and at ease.
Oral provider: Lay on your back on a bed with your head hanging slightly off of the bed
Vulva owner: While standing up, straddle his face and rest your hands on his body or use them to do some exploring!
 Netflix & Chill
With this fun position, the vulva owner can enjoy her favourite show uninterrupted while still getting oral pleasure!
Vulva owner: Perch yourself on the top of the lounge back, with your beautiful bits clearly exposed and legs spread wide.
Oral provider: Sit with your back facing the vulva on the edge of the couch, slowly slide down the lounge, bending backward until your head is in line with the vulva.
What's for Dinner?
We highly suggest using a clean, sturdy dining table for this unforgettable experience!
Oral Provider: Sit backward straddling a chair that is pulled up to the table, you'll need to be able to bend the middle of your back over the edge of the table while the vulva owner uses the top of your chair for support
Vulva Owner: Once the provider has leaned back onto the table, get on top of the table and straddle his face, resting on your knees. Lean over to grab the top of the chair for support. If you're feeling giving, you could lean forward and help him out with some oral play too!
 The Contortionist
The vulva owner may not last long in this position due to the amount of blood rushing to her head!
Oral Provider: Get on a comfortable surface on your knees and get ready to provide pleasure, when the vulva owner gets into position you'll have plenty to do
Vulva Owner: Start on your knees with them spread in front of the oral provider, put your hands behind you like you're going into a crab-walk position. Put your weight on your arms, arch your back so that you are making an upside-down U shape. Straighten your legs so that your vulva is up in the air and nicely exposed!
 The Orchid
This one is for those of you who are a bit athletic and can do a handstand for a while.  The Orchid is another doozy that will send all the blood rushing to the vulva owner's head, so providers, get to work quickly 
Vulva owner: You'll need an empty wall for this one and you can ask your partner to help you with this. Face the wall with your hands firmly planted on the floor. Either use your core strength to get into a handstand or have your partner lift your legs up so that they're spread out with your weight against the wall. Spread your legs wide!
Oral Provider: Stand and enjoy the sight for a moment before helping yourself to her beautifully spread lips!
There you go, if you were stuck for inspiration before, you surely aren't now.
If you enjoyed this article, feel free to repost it on social media or with friends – just show us some love by tagging us @myamora.official
Get out there, get in there and get off there!
Elaine S. Turner
Sex Coach, Clinical Sexologist & Sexuality Educator
Sydney, Australia
September 2020
Works Cited
9 Blowjob Positions to Drive Him Wild {with Animated GIFs}. (n.d.). Retrieved September 01, 2020, from https://sexpositions.online/oral/blowjob/
Garis, M. G. (2020, August 22). 6 Different Oral Sex Positions Every Vulva-Owner Should Experience, According to a Sexologist. Retrieved September 01, 2020, from https://www.wellandgood.com/different-oral-sex-positions/
Oral Portfolio Archive. (n.d.). Retrieved September 01, 2020, from https://www.sexualpositionsfree.com/oralsex.html
Sex positions: Oral sex. (n.d.). Retrieved September 01, 2020, from https://sexpositions.club/tag/oral-sex
The World's Best Selection of Oral Sex Positions for You! (n.d.). Retrieved September 01, 2020, from https://www.sexualpositionsfree.com/oralsex.html